10 Lessons I Learned in My First Year of Owning a Travel Trailer
Written By: Chris Waters
Last Updated: 2021-02-03
As a husband and a father of two kids, I was looking to provide for my family an honest, clean, and memorable family outings.  Every time we'd calculate a vacation we discovered that the price of plane tickets plus the price of hotels, vehicle transportation, dining out, and trying to temporarily live in another location would often exceed our budget.  Sure, we could go for a few days, but we couldn't escape for a week, or two, or more. It was through these thought exercises that we came to the conclusion that instead of traveling via plane and hotel it would be best to spend that money on a travel trailer.
1. Always Bring Extra Towels
My wife recommended this lesson as the first thing we should advise a new traveling family. Towels are used for everything. Douglas Adams and Hitchhiker's Guide to the Galaxy certainly agrees with us. But, jokes aside, towels for a family of four go quickly. They are used for showers (obviously) but they are also used to help clean hands and feet, clean up messy faces, spills on the floor and table, used for the beach or grass for picnics -- AKA they go quick!  Consider bringing more towels than you think you need.
2. RV'ing is Relatively Cheaper than Traditional Vacations
Traditional trips can be very costly, depending on where you travel and for how long you go. It is true that RV'ing can be more expensive, or less expensive depending on various factors. The truth is that we've taken more meaningful family vacations, and stayed longer on our vacations than when we would fly somewhere and stay in a hotel. It does add up tho. Our F-150 gets about 12 MPG when we are towing and when you are traveling 600 miles to your destination and have to pay for food along the way and campsite fees, it does start to get costly. Because of this we typically do one or two big trips a year, and a bunch of smaller trips.  With COVID I even have the opportunity to work remotely and so we can stay on your trips even longer. The trick is looking for campsites that are really no more than 1-2 hours away from where you live. These make great weekend getaways that are inexpensive and make great family memories.

3. Buying New is Great, but Not Necessary
Buying a new RV is awesome, especially if you can afford it or you find an amazing deal, but you'd be surprised about all the great RV's on the market and travel trailers near you. Most of the used trailers you are interested in buying can be found 50-200 miles from your home (don't believe me, go to www.rvsnag.com/search and look for yourself). It is true that when you buy someone else's trailer you are buying their problems, but you'd be surprised how well people maintain their trailers. Often, when you buy a new trailer off the lot, it can lose as much as 20% of its value the minute you drive it home - that's a lot of money! You can likely save you and your family a lot of money by considering a used trailer (even a used trailer from a dealer).  
Check out our article on buying a used trailer for tips and tricks that will save you money!    
4. You Will Need Additional Equipment Before Your First Trip
Buy these Extra Supplies
5. Bacon Causes Smoke, Smoke Sets of the Smoke Alarm
Uh, bacon, anyone? Heck yes!  Bacon is amazing (maybe it's not your jam, but bacon and camping just seem too perfect to not enjoy together). Bacon and a cook-top does what bacon and a cook-top do - smoke, very quickly. When you are in your home you may not notice it because of the space you have in your kitchen, but I am sure everyone in your home knows when you are cooking bacon just by the smell alone! Be careful when cooking bacon (or anything for that matter, especially products that are high in fat) as it will set off your smoke alarms. The positive: you know your smoke alarms work. The negative: all your neighbors and natures animals know your smoke alarms work. Consider cooking bacon in the microwave when you can.

6. Practice Backing-up Your Trailer
Wow! My wife can argue, but never have we argued about the same topic so many times! That's probably a lie, but still!  Backing up your trailer, especially if you aren't used to it, is very difficult, mainly because it's not intuitive.  If you want your trailer to go left, you turn right, and keeping it straight can be a trick as well. There isn't much anyone can write in an article to help you, you just need to practice it.
Oh, and don't let other campers explain to you how to do it. They don't care about your trailer, they don't care about the damage you may cause, and seasoned trailer owners can oversimplify this.  Case and point: we went to Disneyland in our first year and a semi-truck driver was there with his family in their travel trailer - we helped us backup (and it was very nice of him) but I felt rushed, incompetitent, and ultimately he wasn't really paying attention to other side of my trailer, and BAM, we rolled the tailgate into the cement parking barrier. I'd like to think if my wife and I did it we would have had better communication and we would have avoided this accident, but alas, that's our fault (my fault as the driver).
We did end up install a backup camera on our trailer, but don't skimp out for the cost - get a high quality camera (we ended up returning our cheaper camera because of connectivity issues, and got a high end model that's worked great)
7. Not All Campsites Allow Campfires
I have no idea that campfires would be so "contested" - I mean, it's camping right? Campfires + camping = normal? Not at all. In fact, a lot of the sites we've visited have all had some sorts of limitations on campfires if not outright banning them. 
Let me explain why: for the sites we visit (Jellystone, KOA's, Private Sites) they are designed for RV's.  RV's have AC's, fans, windows that open, and they also have canopies on most models these days.  If you stop to think about it, while a campfire is cute (and expected) to most first-time RV'ers, not all sites are comfortable with an open flame next to so many possibly bad situations, at the least complaints from people being bothered by smoke.
With that said, not all sites (probably not even a majority) of them have policies against campfires, but the ones we are visiting as a family did have limitations. In the end, be mindful of the rules of the sites you are visiting, and ultimately be careful. 

8. Book Your Reservations at Least a Month in Advance
With COVID-19, camping in travel trailers or RV'ing has increased in popularity. By a lot! The days of making reservations the day before you arrive at your camp sire are over. In some cases reservations can be booked up weeks, months, or even a year in advance.  Thankfully, not all sites are that busy, but that means that if you haven't found a good spot in advance, you may be left with slim pickings!  We recommend at least a month out. Sometimes, if you're lucky, you can get a reservation a week before you leave. Rare is it the day or so before.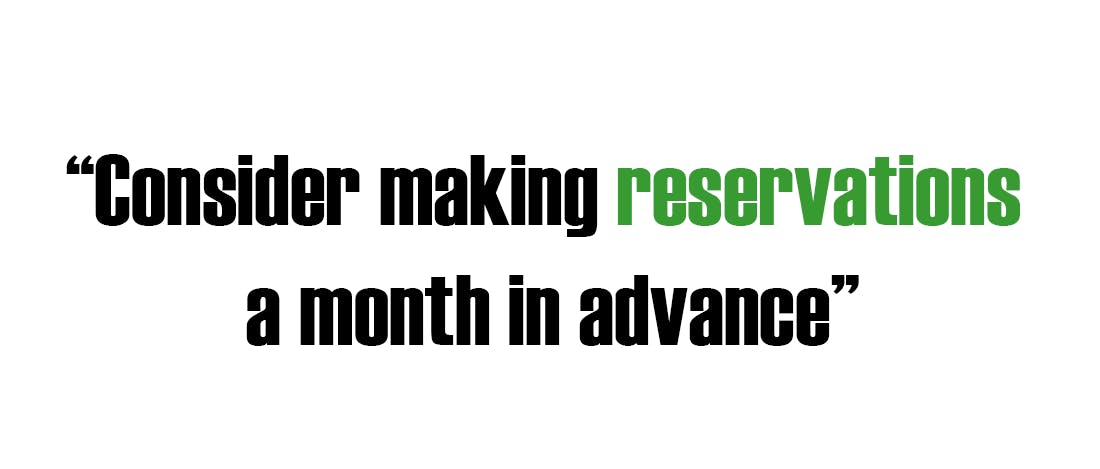 9. Plan Ahead
You'd be surprised how many trips we made in the first year where we just got in the trailer and drove.  We'd figure it out when we got there, right?  And, to an extent, we did.  But, you quickly find that maybe WiFi isn't that great at the sight, so while the kids can't stream their Netflix, or the wife is trying to operate the stove, you are frantically spending each morning trying to find something you can do to keep the family busy. Normally this means looking at the travel pamphlets in the lobby of a local store or asking around last minute. In some cases, depending on where you go, there isn't much "tourist" activities to do other than to sit around, go for hikes, and talk with your family under the stars next to a campfire. And sometimes that is enough, but if you are like me and my family, we often want to participate in the local culture, eat somewhere pleasant, see something we've never seen before. That takes planning and I invite you to heavily use Google or Bing to accomplish your goals.
10. Keep it Simple
Remember, even though you are "glamping", you really are camping. You really don't need the toaster's, the fancy coffee makers, extra TV's, or every possible outfit for every occasion.  If you keep it simple by packing less, and only focusing on what you need to accomplish your goals while camping in your RV, you'll be surprised how much you leave behind.  Typically it's a few days worth of clothes, some hiking shoes (tennis shows if you prefer), a toothbrush, and RV-safe toilet paper.  
Let's be honest tho - you either bought your trailer already or you are thinking about buying one, and the primary motivation is because you know you can haul more with you where you go.  That is true.  But our family has found that when we spend four hours packing for a trip, five hours driving there, three hours setting up, three hours tearing down, five hours back, and another four hours unpacking and cleaning… well… we honestly need a vacation from our vacation!  Instead, imagine a trip where you pack a bag of clothes, a few condiments (ketchup, mustard, etc), and a few board games and you just get in the truck and go… ah! That's true weekend warrior RV'ing right there.  
However you use your RV or travel trailer, consider keeping it simple.  Less arguments, less to worry about, and more focus on the outdoors and on your family. 
Tags
How-to
Buying A Used Trailer
Safety
Planning
Used Trailer
Signup for Our Newsletter
AND
Trailers For Sale Near You
Trailers For Sale Near You