5 Romantic Scenic and Outdoor Getaways for your RV or Travel Trailer
Written By: Jerome Tyson
Last Updated: 2021-02-22
Romantic RV Destinations
Each year, February 14th, millions of couples across the United States celebrate one another in romantic embrace and tender regard. "Significant others'" desperately looking for flowers, dinner reservations, and some sort of combination of jewelry, chocolates, and stuffed animals to offer their companions. It's expensive, sometimes wasteful, and always fleeting. But, it's the thought that counts right? Yes! Absolutely! Let's not diminish how people celebrate one another - I'm just thankful that this world has enough love remaining to allow for such compassion. But, why not step up your game and instead of gifts of sweets and store bought stuffed animals we instead offer you an alternative seldom offered: a romantic getaway in your RV or travel trailer?
In this article we try to highlight for you great, romantic, and scenic getaways to take your family and friends that will remind you of the love we should have for each other (whether romantic or platonic). Since February is right in the middle of winter you'll want to carefully consider where in the US you travel to avoid freezing weather (especially if your RV or travel trailer is not considered to be a four-seasons trailer). We'll list a few warm places, and a few places that you can visit on not-Valentines-day.
#1 Napa Valley, California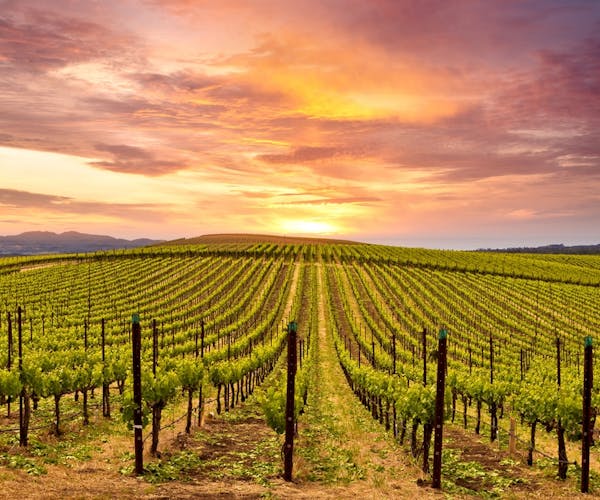 "Wine Country", A.K.A Napa Valley, California is world renowned for its quality wines and scenic views, long stretches of gold and green hills, speckled with Tuscan-styled wineries of all shapes, sizes, and varietals. For those of that haven't had the chance to travel to Italy or France, there are moments as you come around winding bends, over and under hills, and through orchards that you could swear you were magically transported to a foreign land that incenses the mind through near-surreal California visuals.
California's near constant temperate temperatures, soil conditions, and frequent drought-soak cycles have prompted the area to plant grape varietals that are disease and drought tolerant through splicing different vines together to get the best of the best! This region, while being one of the newest of the wine regions in the world stage, is enriched by the wind and not-so-distant coastal weather that brings minerals, heat, and water to the regions soil to produce some of the best wines domestically made.
All the said, let's get back to the real reason this is on the list. It's just so damn magical. The sky, clouds, sun, warm weather, winding roads, and visuals are sure to get your heart pumping and set your mind at ease. In between joy riding around the countryside, you can relax in a hammock, lounge in a chair, sip local wines, and most certainly enjoy the local cuisine. When the sun sets you can smell the grapes on the vines set against some of the deepest hues of red, orange, and purple you'll likely ever gaze. Finally, the stars start to pop one by one taking over the night sky as the North American constellations take shape in a connect-the-dots way that is sure to connect your heart with whomever is lucky enough to be enjoying this trip with you. If that's not romantic, I don't know what is!
Now, if you have kids, this is likely not a fantastic trip to make because of the combination of wine and adult-only entries to a lot of the wineries, but don't let that dissuade you from planning a trip. San Francisco, Petaluma, and other bay area destinations are just a stones throw away which are sure to capture the attention of your kids, of any age!
#2 "Dutch Country" Lancaster County, Pennsylvania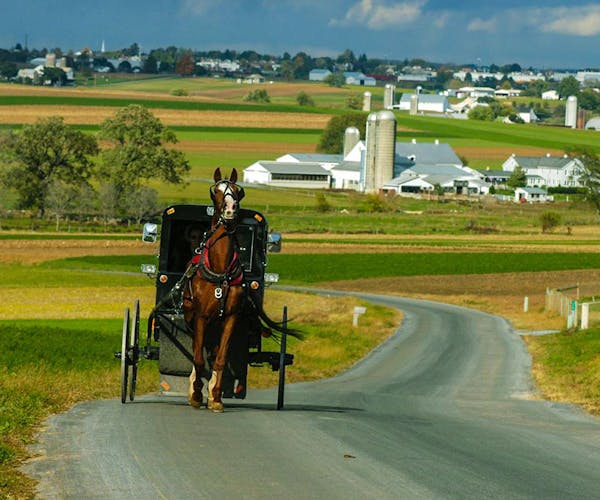 For a potentially dramatic change of pace, we recommend Lancaster County in Pennsylvania. Lancaster County is also know as "Dutch Country" for the Amish community that dominates this area. Pennsylvania itself is absolutely amazing to visit - the cities and countryside (not to mention the amazing east-coast historical venues) alone are worth a visit, but just like all things, the simpler and more down to Earth the better and sweeter they are - a truism that doesn't always hold true, but given the difficulties of 2020 and 2021 (and possibly going forward in the future) simpler just sounds better. The Amish culture, while unique, doesn't make them or their ways a destination, but rather the atmosphere that they engender - the Amish way of life has touched everything in the area in one way or another and just being in that aura brings a since of calm, belonging, and togetherness. Now THAT makes for a perfect romantic getaway: simple, calm, belonging, and togetherness.
Remember, you aren't participating in their community to gawk or to interrogate or judge their way of life, but rather requesting permission to politely participate in their community while you visit - and, like all places you visit, you are a guest and should act accordingly. When in doubt, hold the hands of those you came with and enjoy the company.
Between the green hills, horse buggies, east coast style architecture, and trees and lakes Lancaster County is sure to be a great destination for your RV or travel trailer.
#3 Montana's Glacier Country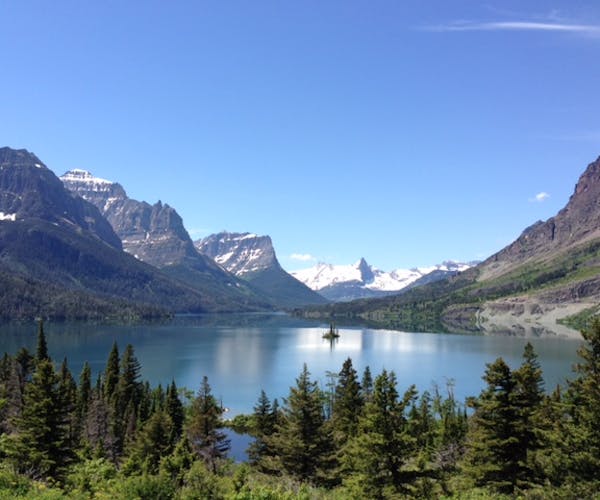 Montana itself is amazing. A lot of states in the US can be densely populated, but not necessarily Montana! Sure, they have plenty of people that live there, but unlike California (with San Fransisco and LA) and Oregon (with Bend and Portland) and Washington (with Seattle), Montana doesn't have sky-rise buildings in the plethora. It doesn't have concrete jungles, looping back on each other with overpass on top of overpass... no, Montana is known for the mountains, lakes and rivers, endless sky, and trees - plenty of trees! This stunning backdrop fills your senses with color and 'smallness' as you approach some of the nations steepest and widest mountains in Montana's Glacier Country. Kalispell and Whitefish are great locations to visit and set up camp near just in case you want a little city settings (and local foods/activities). Don't count on your phones working, or Netflix streaming - instead, plan for quiet and serenity to distill your mind into a tranquil brew of "ahhhhhh" as you kick back and relax with your loved ones.
After the sun sets, prepare to pick your jaw off the ground as you stare into some of the US's best views of the Milky Way; keep in mind that the lack of population means a significant amount of 'light pollution' (a major contributing factor to not being able to see the stars at night).
#4 Utah's Scenic Byway 12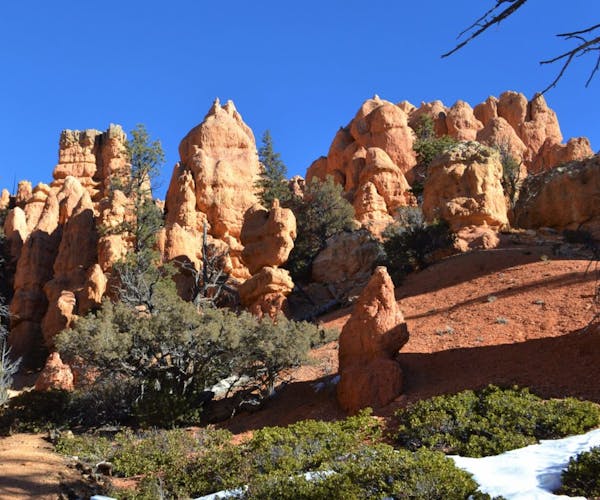 Have you ever wondered what it would look like if God reached down from the sky and dug his finger in the mountains, blew through rock, or spent millions of years rubbing away stone with only drops of water? Well wonder no more and visit Utah for a great romantic getaway. To be clear, this isn't so much a single destination as it is an entire trip that provides non-stop picturesque views that make you feel as though you are driving from one painting to another. In the fashion of our other destinations, the night view is fantastic, but unlike the others the mountains, fields, salt flats, hills, rivers and lakes of Utah all offer something unique unlike anywhere else in the United States. My sheer 'awkwardness' alone of the windblown Bryce Canyon (found on the Byway) to rocks that appear in the distance to balance precariously on another pointy rock (which turns out is really a mountain warn down by water and wind over millions of years) you are guaranteed to touch a bit of heaven out in Utah.
#5 Joshua Tree National Park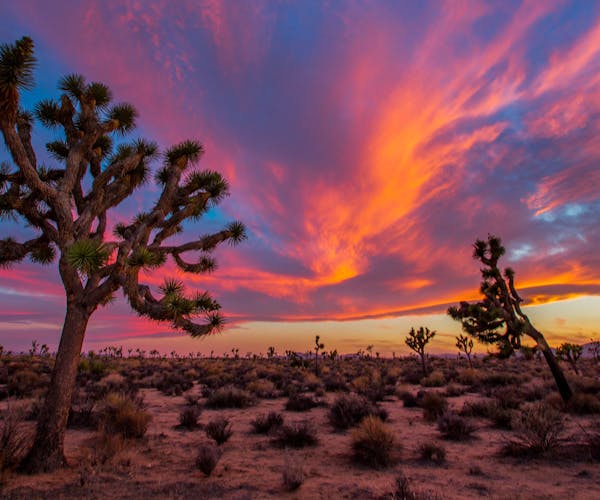 Heading back to California takes us to So-Cal, Joshua Tree National Park. This place can be HOT! Be prepared. But, it is undefinable and undeniable that Joshua Tree National Park offers an other-worldly home away from home that is hard to find anywhere else in the United States.
It's called Joshua Tree National Park because it's home to the Joshua Tree's that dance across this twisted landscape. It's quiet, endless, and alien - said differently, it's an adventure. Take your significant other and your family on this trip when you want sometime alone and looking for hikes, climbs, and plenty of exotic plant and animal life exposure. Also remember to bring plenty of water.
Ways to Make Your RV Trip Extra Romantic & Special
Remember that just like in life, so is true in your RV and travel trailer trips: it's not about the destination, it's about the journey, Merely parking your RV or travel trailer and setting up your site is one small leg of your adventure. We understand that if you are reading this article and you are perhaps not in the fitest (or youngest) shape of your life that hiking or climbing is not in the cards for you - and it's OK (it's not really for me either with my small kids), but I can plan a picnic or a theater show in a nearby town. I can plan a short bike ride or jog. And, YOU can plan a trip that is sure to make your significant other remember exactly why they chose you out of all others.
Plan for Views Stay for the Emotion
Keep your eye out in your research of these destinations for sights you haven't seen before. Once there, take your time - slow down. If your destination has 20 scenic overlooks, you don't need to squeeze them all in on this trip - pick one or two that will invoke a sense of romance and peace and follow that thread of romance - the view helps, but stay for the emotion it invokes.
Remember the Drinks
I don't mean alcoholic drinks (that's cool too, but not necessary). What I mean to say is remember the small things when it matters. Your significant other is going to be hungry and thirsty on any of your journeys but the more you can remove the thoughts of the small things in life and instead focus on the wider view the better it is to help remind you and your loved ones that perspective does wonders to remind you of how small BUT SIGNIFICANT we all are, especially to each other. Contrast that with how many times you've planned a hike or something special but neglected to bring a water bottle, only to have to cut your adventure short to return for food or drink - that's not a memory, that's a regret! Avoid these as much as possible with a little planning up front. Check the weather at least!
What Trips Were Romantic for You?
What trips in your RV, travel trailer, or just plane camping were great for you? We'd love to hear about your RV trips or how you used your travel trailer to make a trip special for yourself, friends, and especially your loved ones. Write to us at social@rvsnag.com and tell us everything! Well, almost everything - this is a family website after all ;).
Tags
Family
Activities
Planning
Explore
Adult-only
Signup for Our Newsletter
AND
Trailers For Sale Near You
Trailers For Sale Near You