6 Incredibly Fun Outdoor Games for Your Next Camping Trip
Written By: Chris Waters
Last Updated: 2021-02-13
Plan for a Great Time Outside
As usual, the RVSnag.com team has put together our best games for camping. Whether you are in an RV, travel trailer, or tent, these games are small in their package, but large in their fun! For your next trip with friends or family consider these games for your next purchase!
Ladder Ball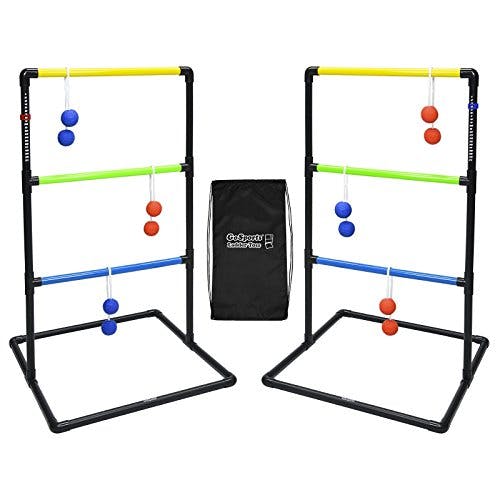 First up we have ladder ball. This is probably one of the oldest human games short of throwing a rock ("Ugh" the caveman would be proud). In ladder ball you have three tiers that are assembled on top of each other, players stand back and throw a device that is basically two balls attached with a rope between them -- it spins in the air, and if you are good enough it wraps around one of the tiers (think Batman's batterang with a rope wrapping around a villains legs). Like most of the sets we have listed on RVSnag.com, this ladder ball set is a great travel set that breaks down for your RV or travel trailer storage spaces and is rugged enough to withstand the outdoors.
>> Buy your Ladder Ball set here.
Collapsible Cornhole (Bag-o)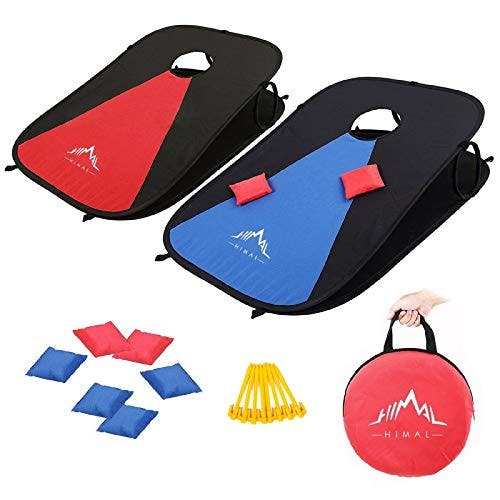 Cornhole! A 'soft' bag version of it's "kissing cousin" game horseshoe. Most people are familiar with Cornhole (also called bag-o, especially back in New England) with a hard wooden board (instead of this soft-fabric collapsible version) and the game is played with 1-More people. Yes, you heard it correctly, you can play by yourself if you wanted (think of it like practice). Cornhole is best with two opposing people, or teams of two. Spread the boards about 6-10 feet apart (there are official rules that come with this) and then hand out the colored beanbags to each player/team. Players take turns alternating their throws with the objective of getting on the board, leaning into the hole, or completely sunk into the hole. Once all players on one side have gone the opposing team then picks up the bags and try to throw it into the opposite board. We promise that this is game is pretty straight forward and REALLY fun! This also allows you to pack it up, store it, and travel to your next RV or travel trailer site pretty easily.
>> Buy your Kornhole here.
Throw Throw Burrito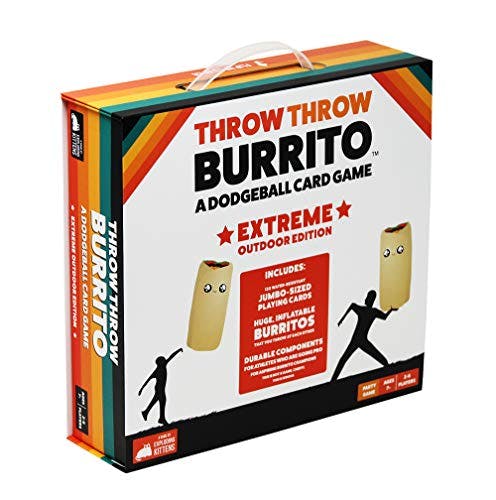 Uh... it's a game called Throw Throw Burrito! Come-on... isn't that enough to want to purchase and try it? It's actually pretty funny. The outdoor version (featured here) is basically blowup burritos (approximately 3 feet in height) that you then throw at each other. Sounds silly, and it is, but there is more to it. The short version is that you also get playing cards, build your hand, and play your cards accordingly - then, when the time is right, the cards will dictate who will be "burrito'ed" ;-).
What's great about this game is that it's cards + inflatables! Cleanup is a breeze, and it stores away into the smallest of storage bins. Then, when you want to play, blow it up quickly and BAM! You got a full "blown" game (get it?).
Kids and adults of all ages enjoy Throw Throw Burrito, and if you add alcohol just remember to stay quiet for your neighbors and most definitely don't play around any fire pits! As always, stay safe, play smart, and smile - you're outdoors.
>> Buy Throw Throw Burrito here.
Beer Pong Table (with Glow Cups)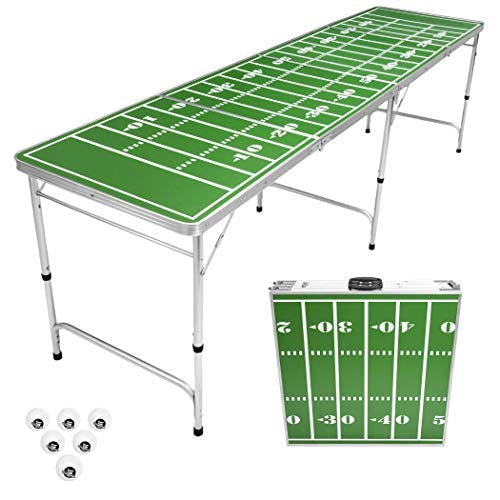 It's an 8ft beer pong table in the style of FOOTBALL! Say what?! This foldable melamine table is perfect for packing away into your travel trailer, RV, or car/truck for small trips. If you know that you are going to have an adult crowd of fun (and responsible) drinkers. Keep in mind, buying these types of drinking games isn't an excuse to rough house, be loud at your camp site, or be irresponsible! But, what this does give you the ability to do is make a perfect center station for which others gravitate around and participate in some harmless beer drinking games.
What else do I need?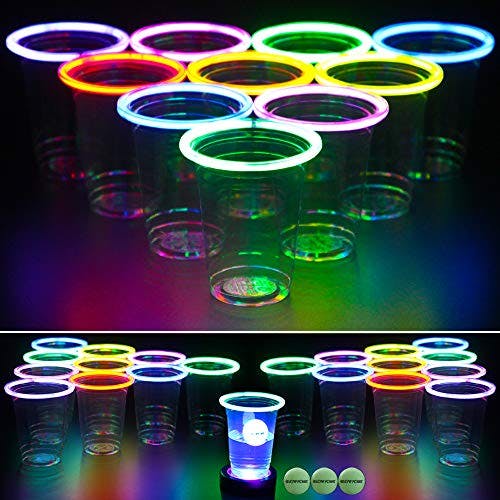 We got you covered. Check out this page with the beer pong cups (that light up)!
BONUS: Checkout our blog page on the rules.
>> Buy your Beer Pong Table here, and your Glow Cups here.
Giant Wooden Blocks (Jenga)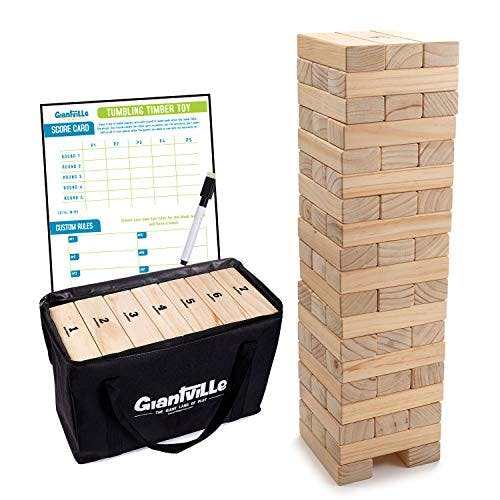 It's Jenga. Enough said. Where have you been these last 30+ years? Jenga is a classic and iconic game where you stack the blocks up in a particular pattern (see the photos/instructions for the pattern), and then carefully you pull out the blocks one at a time and continue to stack up the blocks on the top of the tower. Eventually, what happens is that the tower becomes so wobbly and ... SPLASH, the wooden blocks come crashing down. Game over. Or is it? Stack them back up and start over again.
>> Buy your Giant Wooden Blocks here.
Giant Dice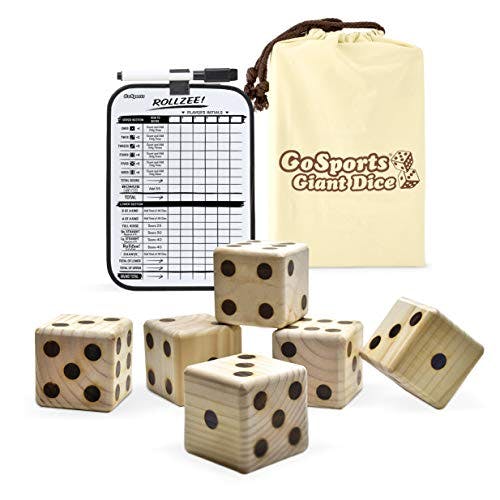 These giant dice are amazing! These 6 dice are large enough to have comical fun with but still small enough to stack and stow away in the tightest of RV or travel trailer spaces. Once you get your hands on these babies you'll start to wonder why you never had giant wooden dice before! Humor aside, we choose these wooden dice because they were rugged enough to throw around outside. Additionally, what you may not realize right now is that those small cute dice you are used to playing with? Yeah... they get lost pretty quickly on your camping trips. Enter these giant dice. Easy to see, hard to lose.
>> Buy your Giant Dice here.
Tags
Gift Idea
Kids
Activities
Family
Planning
Signup for Our Newsletter
AND
Trailers For Sale Near You
Trailers For Sale Near You