An RV Experience: Intro to "Crew Camping"
Written By: George Ryan
Last Updated: 2021-02-03
A Neophytes Story
You pull into a camping site in your new travel trailer. What's the first thing you realize? The briefing by the salesman about the features of your new purchase didn't scratch the surface. What to do first? Then you notice the older motorhome sitting next to you, several couples seated in various types of folding chairs around a propane fire-pit preparing s'mores. 
When your eyes meet with one of the group, he stands and approaches with his hand held out. "Hi, I'm Bob, we're from Nebraska. Where you from?" he asks. You tell him that you are actually a local enjoying your first outing in your new RV, and Bob immediately asks if he can be of help. Then two others from the group come over and join the conversation, and you think to yourself – my, what friendly neighbors!
Then you start hooking up and suddenly realize the drinking water hose you were given in your start-up package the salesman provided was missing a gasket. Water was squirting everywhere when you turned it on! You ask Bob and his friends if you can buy that little rubber washer at the campground store, and Larry (one of the group) says " hold on, I have an extra washer. You might want to put a pressure regulator on there too, I have an old one you can have". And he walks over to the 5th wheel parked directly across from you, and a few minutes later he returns and hands you only the pressure regulator. He apologizes and tells you he couldn't find his spare washer.
But then another from the group named Steve says, "I have one, be right back". And, he proceeds over to a little pop-up camper on the other side of you – a smaller unit than yours - returning with the new washer. You feel obligated to pay them for these things, but they simply wave their hands and refuse to accept payment. And you think to yourself "they are all in different types, sizes and frankly budget RV's yet they collectively are such a friendly and helpful bunch! I wonder if all RV'ers are as friendly?" (Most are!!)
While finishing with all the nuances of hooking up, I am invited to join them in an outing to a place of historical interest the next day – I'm from this area and still didn't even know this place existed! During that excursion I learn that they are a half dozen rigs, all from various places in Nebraska, and caravan'ed to this campground a few days before.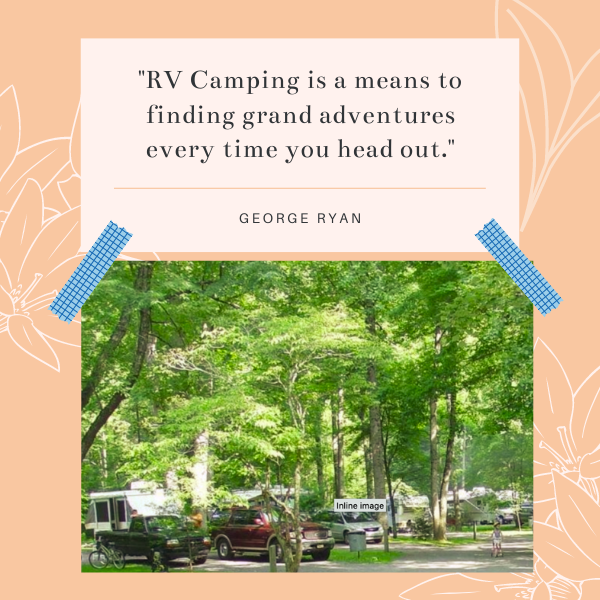 What is "Crew Camping"?
But, let me regress - the whole RV experience is about getting away from it all, relaxing, and recreating. Sometimes it is simply seeing new sights and hearing new sounds. Things that we otherwise may not be able to enjoy were it not for the recreational vehicle that got us there.
While some folks RV in solitude in the middle of nowhere, most enjoy the experience in the company of family and friends - maybe at a KOA or similar campground. Some camp out in the back of their SUV with a sleeping bag, others must have a luxurious diesel pusher. Still others simply "camp" by renting a cabin somewhere. 
In other words, when the expression RV'ing or camping is heard, it probably conjures up thoughts that suits whatever each individual's personality and style dictates ( their budget is often a factor, in addition). For the purpose of this writing, I am going to address those that prefer spending time and enjoying experiences at new and different places. However, rather than experience it alone we are going to focus on those that want to enjoy the experience with family and friends. I am going to call this style of camping "Crew Camping" because it is done with a crew consisting of family and/or friends.
Who Crew Camps?
In the opening introduction I outlined a situation that is more fact than fiction. How many of us experienced a similar introduction to this lifestyle? I know I did, but in my case the group was a Good Sam Chapter – a crew of 11 rigs on a regularly scheduled four day "campout" weekend. I learned so very much from these folks, and they became my friends. Some of them are retired and even "Snowbird" to Arizona for the Winter. Others have a regular, full time job – but to a person they still enjoy the long campout weekends with their Good Sams chapter. In addition it is not unusual for one or two families from this group to get together and travel for distant camping experiences. Puerto Penasco, Mexico, New England in the Fall, touring the Natchez Trace – these are just a couple ventures taken or scheduled with my crew.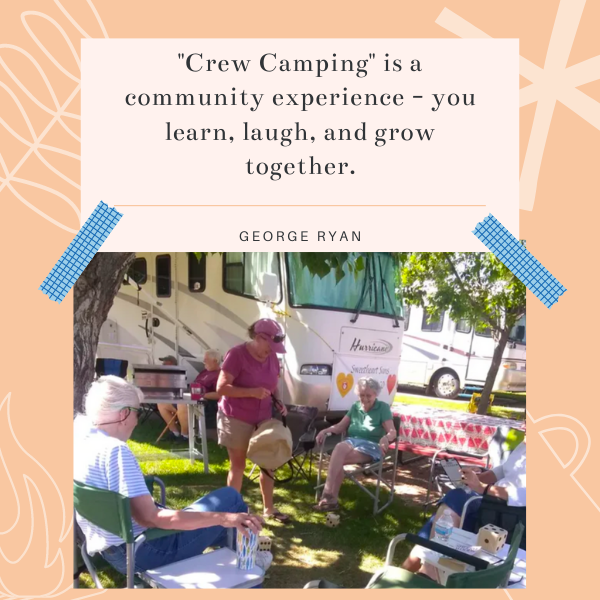 How Do You Join a Crew?
There are several organizations with which "Crew Camping" is the norm. I mentioned Good Sams, but there are also Escapees and Family Motorcoach. There are brand specific organizations and Specialty Organizations to fit the needs of every RV'er. I personally belong to both Good Sams and a military RV group. To find those "Crew Camping" folks near you, simply Google "RV organizations near me". 
In Summary
RV Camping is a means to finding grand adventures every time you head out. In addition, it offers opportunities to build new friendships – at every stop and every campground. For those new to this lifestyle, "Crew Camping" offers a support group to help the novice learn all the nuances that come with the RV experience. But, no mater your experience level, by "Crew Camping" you will enjoy being part of an amazing community, no matter which niche your particular group is in. 
Special Note
The term "Crew Camping" is a phrase the author has labeled for camping with a group of friends and/or family. It is a phrase coined by the author solely for the title and context of this writing. You will not find this phrase to be commonly used in the RV Community.
George Ryan is a guest writer for RV Snag. He is Colorado State Good Sams Assistant Director, President of a local chapter in Loveland CO, and a seasoned RV'er. Good Sam is actively seeking all campers to join the fun, no matter their camping preference (all ages and backgrounds are welcome). More information can be found at http://coloradogoodsam.org or you can reach George directly at george.ryan@sbcglobal.net
Tags
Family
Activities
Planning
Explore
Signup for Our Newsletter
AND
Trailers For Sale Near You
Trailers For Sale Near You