How to Keep Kids Entertained for Long Road Trips
Written By: Jenn Cole
Last Updated: 2021-02-26
Every year, for the past five years, our family makes a triangle trip to visit family. We moved away from everyone, so we make the drive to go visit- driving used to be cheaper, and easier than flying. Plus, we have a dog, and we stay for a couple of weeks. It's just easier with all our stuff. So, we drive up to visit my in-laws (17 hours) then after a few days there, we drive Southwest to visit the rest of our family (17 hours) and after about a week there, we complete our trip by driving east, back home (17 hours). It's a lot of driving. And we have a lot of tips now that we've done it five years in a row. But for now this blog is about the kids. My kids are TROOPERS and do excellent in the car... mostly. Did I mention that we do these 17 hour trips in one day?
Recommendation #1: Plan for the "Little Things"
The more that you plan and are ready the less stressed you will be, and we all know that "a less stressed parent will have more patience for the thousands of questions that can be discussed in a 17 hour car ride" - as the old saying goes. We always find a gas tracker on google and know exactly which gas station we need to stop at depending on which car we take. We also let the kids bring pillows, blankets, toys, electronics, anything they want (as long as it fits in their backpacks) to keep them entertained. They pack their own which makes them actually want the things in their bags. 
We also got an ice chest that plugs into our car to keep everything cold (we recommend this one). We pack snacks, lots and lots of snacks. Bagel sandwiches are usually our go-to's for lunch, and banana bread for breakfast. We pack Gatorades, waters, sodas, coffee and red bulls for the adults- trust me, you'll need it. Chips, nuts, jerky, crackers, etc are snacks… Lots of crunchy and easy to eat things in a car. Even if you don't eat it all, it's nice to have a variety of choices. 4 people don't always want the same thing.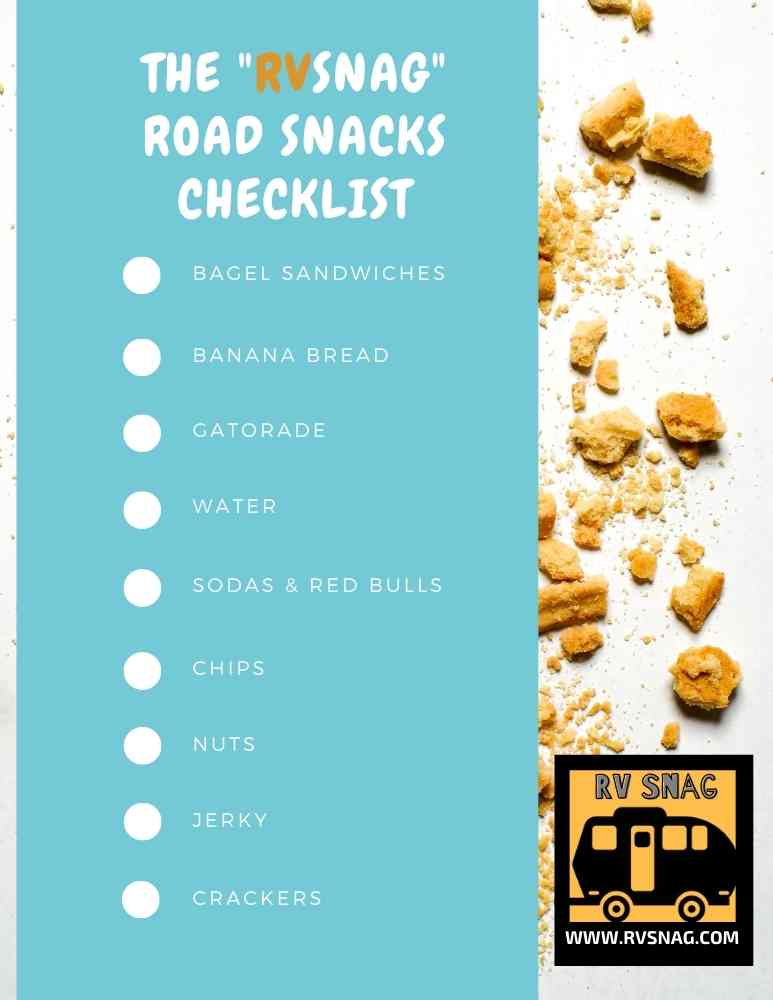 Recommendation #2: Leave Early
We always leave early. We pack up the night before, load whatever we can into the car so it's ready and we are out the door by about 3AM. This isn't fun, but my kids go back to sleep for hours in the car. The first time you have to get gas everyone wakes up and it's about breakfast time. It's still early though and everyone gets to see the sun rise and pretty views.
Recommendation #3: Take Turns Driving
My husband and I always switch off driving. While the other is driving, we sleep if we can, make sure to eat and take care of the other, and play games if we're both exhausted and needing something to do. It's also a good break from the stress of driving and paying attention to other cars on the road. And will increase your patience with the rest of your people in the car!
Recommendation #4: Bring Games for the Car
We love the license plate game- trying to find a license plate from as many different states as we can. This is a fun tracker that we always take… we do travel through 10 states on this trip!
We have also found Scattegories books that keep our minds working during those boring legs of the trips. We recently bought this, and it was a huge hit in the car. It has a ton of ideas for games! These games required nothing but just you too, so it was perfect and small for the car! The other game that we play is a little more dependent on where you're traveling. It only is good for certain areas of our trip, as some of ours is long sections without seeing any cities or people or ANYTHING… And for those moments when the adults just need to focus and the kids want to play, there are a bunch of magnetic games that are perfect for car rides, so you don't end up with pieces all over the car and an unusable game!! Anyways, if you're going for a long car ride… games are a must! 
>> Buy this Scavenger Hunt game for the kids.
>> Buy this Hangman game for the kids too!.
>> Check out this Go Fish game too, kids love it.
Recommendation #5: Some Rules Have to GO
We all know that too much screen time is bad, eating unhealthy snacks all day is also bad, watching movie after movie, also bad… But for the car trips, some rules have to go. One day or two is not going to hurt anyone. It keeps them occupied and entertained. It also helps limit the "are we there yet?" dreaded question. Or having to stop constantly for something to eat, if you've packed their favorite snacks. So, for these days… Relax the rules just a bit. They get a free pass and you get a few moments of quiet and not grumpy kids. Tablets, games, switches, mp3 players, phones, DVD players, etc… Yep, they all come. They sit all plugged in and ready to go for us overnight. Then in the morning, we grab them all AND the chargers!! DON'T FORGET THE CHARGERS or the trip home will be a disaster!!!
Recommendation #6: Try to Make the Little Things Fun
We are in a car for 17 hours, nonstop, except for the gas and potty breaks. So, while these are not fun for kids and we hurry in to go potty then are trying to get back to the car as fast as possible, we also take a second here… We move the car after it's filled up with gas and we all get out and race laps around the car. It gets our blood moving, our legs not sleeping, some laughs, and is fun. Then we get back in, wide awake, and ready to continue on. 
We try to bring lots of music that we can sing along to. Our kids are older now, so we get eye rolls… but when they were younger they thought it was funny. Journey is a good one, trust me! 
The games and jokes… Try to make them something everyone will enjoy- adults and kids. Sometimes it gets some really good topics out of them to discuss and learn about each other. We have so many fun memories in the car!
Recommendation #7: Drink Lots, but Not Fast!
Bring plenty of drinks. Always have water close. You have to remember to drink… but don't drink fast or you'll be making extra potty stops. One of my favorite purchases was a portable toilet. It sounds weird, I know… but when you or your kids have to go and there isn't a bathroom for miles, it really comes in handy.
In Summary... It's Hard, but Manageable
If you can, have family or friends or wherever you are headed have a hot BIG meal waiting for you when you end. A beer also doesn't hurt. Trust me, you'll be hungry. And those last couple of hours are tiring… Getting to where you are going and enjoying a yummy warm meal is the BEST!! 
It really isn't bad to do these trips. It's tiring and it's wearing on you and your car. But it creates fun memories. Just make sure to plan ahead, so you have extra patience, extra food, and lots of things to do!! Also, cut the kids some slack! 
Tags
Family
Kids
Activities
How-to
Planning
Prepared
Signup for Our Newsletter
AND
Trailers For Sale Near You
Trailers For Sale Near You