MLK National Holiday & How/Where to Observe in Your RV
Written By: Chris Waters
Last Updated: 2021-01-18
Every year, on the third Monday of January, the entire United States takes a moment to honor and celebrate the life of Martin Luther King, Jr. and his contributions to our great nation. As you likely already know, Reverend King sought to bring about equal rights for African Americans through mutual respect and understanding. His famous speech, "I Have a Dream", has been heard around the world as a message of hope and a beacon against oppression. 
On April 4, 1968 Martin Luther King, Jr. was shot, killed, and the world grew colder and sicker that day for the tremendous loss of love and compassion that was embodied by Reverend King.  
Whether you believe in the growing cannon that is MLK's message of unity and respect, it is utterly undeniable the world would unlikely soon forget his contributions, for even today he's visage and voice can be heard echoing from shore to shore in the United States. At RV Snag, nay, from myself, I can only honor Reverend King, his family and friends, their loss and his ultimately sacrifice and contributions to my life, by taking his spoken and written words to heart - manifesting his vision, his Dream, into the next generation (my kids) so that one day my kids-kids will look back at both shake their heads at how foolish we were to disrespect so many African Americans, and how atrocious we treated ourselves to human beings because of the color of our skin or where we were born. That type of "blood law" has taken nearly a milenia to remove from our societies, and even today as our country is torn asunder by COVID and political strife, we are reminded of Dr. King's message from the future that we should love and respect one another.  
On MLK day, my family tries to find ways to celebrate his life by exploring the footprint and legacy he left behind. Admittedly Dr. King's assasination (April 4, 1968) was before I was born but his impact and teachings are memorialized in my childhood as a universal representation of purity and basic human rights. Due to COVID, it's nearly impossible to explore human nature through physical destinations (i.e. visiting museums), but instead we are reduced to a digital journey.  
Online Resources
Here is a list of resources you can explore with your family to get more information and see his impact. Some of it is not pretty, as civil liberties and fighting for equality never is. If you are like me, my wife and I tell our kids very plainly what Dr. King, and what he and every African American, was fighting for, through the peaceful non-violent lens and the power of the spoken and written word. We leave the blood, tears, and death portions out of it not to suppress the facts, but to shield our two and six year olds from having nightmares. We invite you to temper the reality as you see fit to shield your child's innocence but also encourage you to share as much of the atrocities, pain, and tragic death of MLK as you see fit so that we never forget.
Wikipedia
We don't often cite Wikipedia, but we found their matter-of-fact disposition to be a nice balance between all perspectives (giving us the opportunity to digest and explain his, and his movements, contributions and impact in our lives to our children without the bias of others). We invite you to read it ahead of any discussions you might have with your kids so YOU have your facts straight!
The King Center
As we'd hope, we found entire libraries, departments, and buildings dedicated to Martin Luther King, Jr.. Checkout The King Center online for tons of resources on his contributions and his message, and the on-going efforts to continue to stop oppression, fight for equal rights, and to balance out the tyranny of a majority over a minority.
Americorps
Americorps has a great resource for MLK volunteer opportunities too! No matter where you are, there are always way to make a difference - whether you are contributing your time, your money, or your experiences I'm sure Dr. King would agree - don't sit idly by as your fellow man, woman, and child are mistreated, disrespected, or made to feel inferior. If nothing else, take a moment of silence to reflect on your own views and personal injustices and decide how you can make the world a better place not just for you, but for your children, by changing your day to day interactions with people - changing the way you talk and influence others.
Exploring MLK Day in Your RV or Travel Trailer
If you are one of the few under lockdown near MLK sites, you may be lucky enough to get a limited tour of some sites or to be able to drive down famous streets used in the peaceful protests of the MLK movement.  Alternatively, once lockdowns are lifted (and they WILL be lifted) you can always honor MLK and observe his message year round (not just on MLK day).
Each of the below locations have excellent RV and travel trailer hookups and your typical RV destinations. We leave it to you to decide how close, or far, away from each of these locations you want to stay, but remember that it's always easier to park your large camper outside of these historic centers (and often required/necessary) and drive or Uber or Lyft into the sites.
Atlanta, Georgia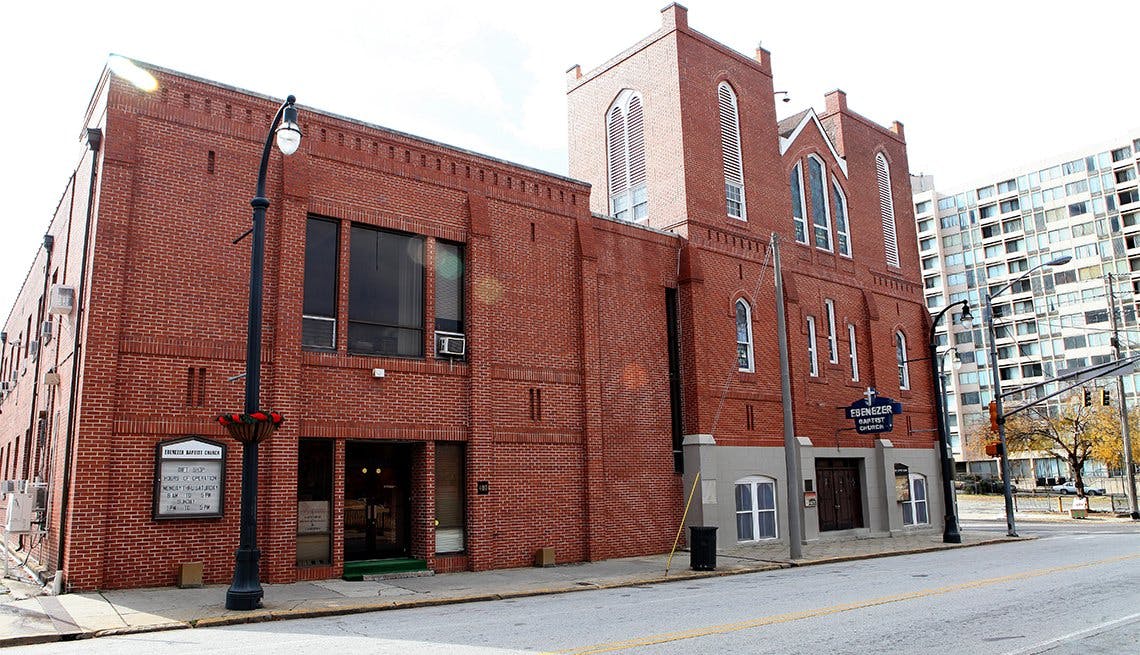 Atlanta, Georgia is home to the Ebenezer Church and Dr. King's final resting place. For those that wish to pay him homage and his family respects, you can walk in his footsteps all over Atlanta, Georgia.  
Montgomery, Alabama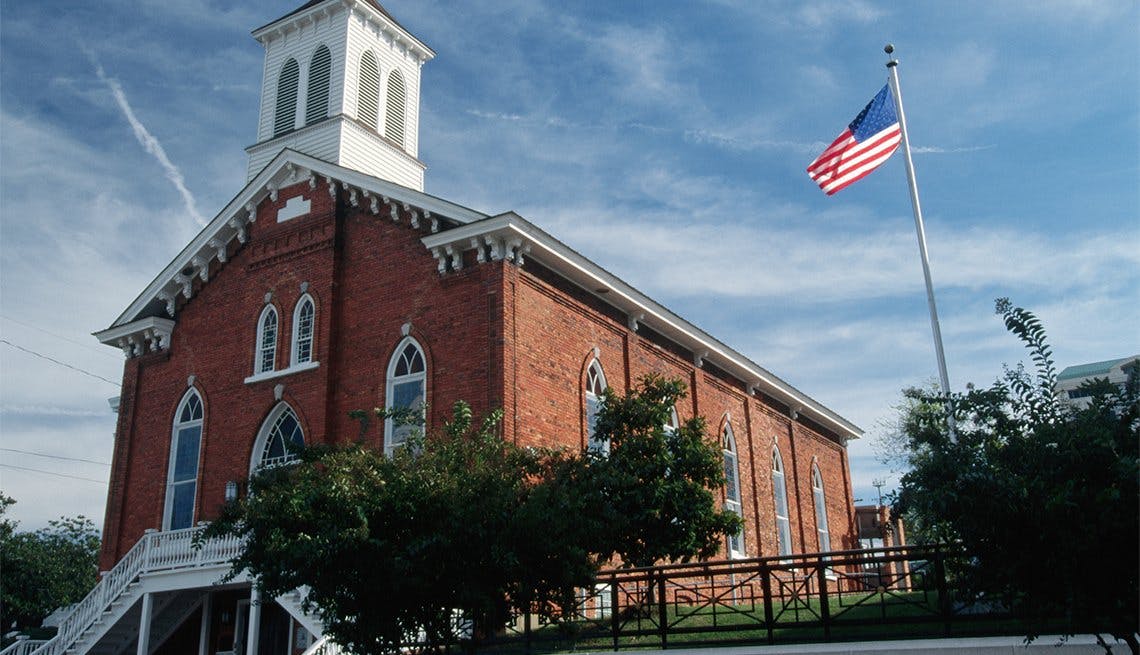 Here is where Reverend Dr. King took up full-time pastoring to his congregation. While his position lasted roughly four years, the Reverend believed the gospel and his movement was best served through travel, social engagements, and literally being in the streets with his brothers and sisters. Whether you practice in a religion or not, this church represents so much more than a 'place people worship on Sundays' - it represents the spirit of humankind and endearment of our collective efforts to thrive, grow, and our tremendous capacity to love on another.  
Washington, D.C.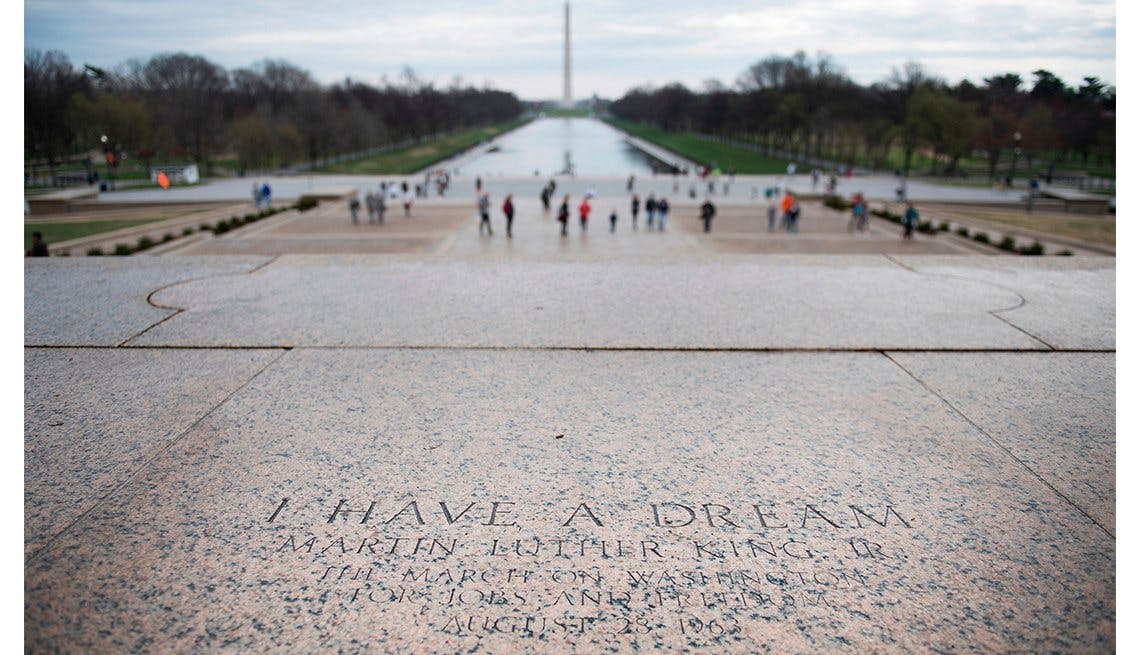 Perhaps the most iconic of the Martin Luther King, Jr. destinations would be where he gave the famous "I Have a Dream" speech to a quarter of a million people. Here is where Dr. King gave his most far-reaching and memorialized message of unity and peaceful protest (ironic during the time when THIS article is posted given the political environment we are in and all of the violent protests we are faced with). 
St. Augustine, Florida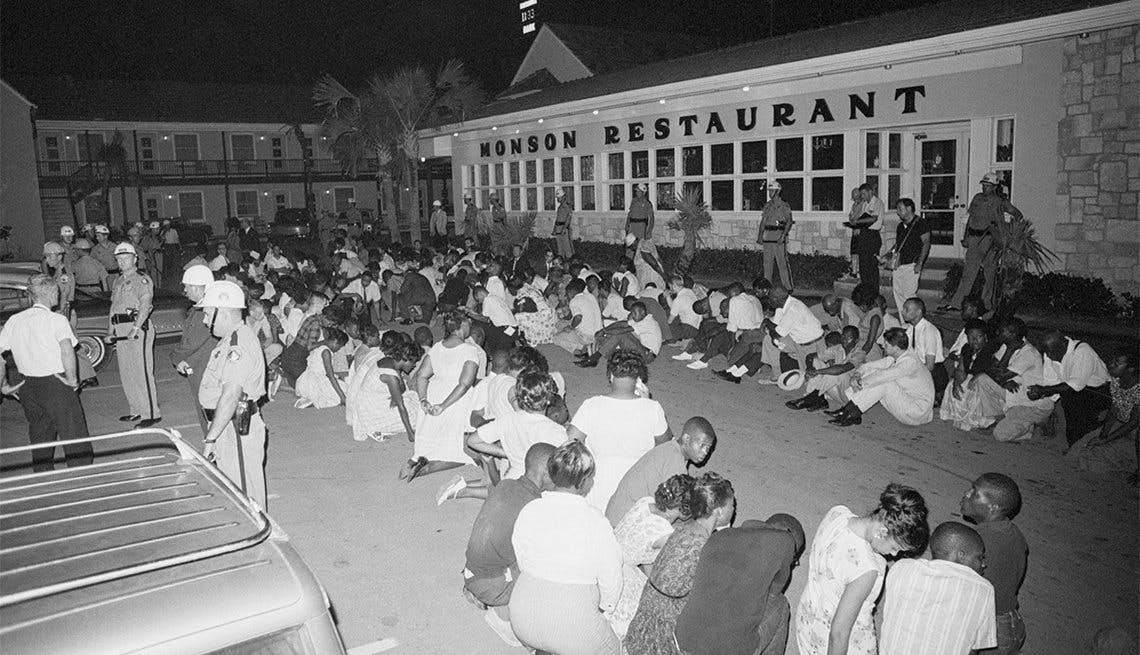 Perhaps one of the more surreal places to visit on this is St. Augustine, Florida. Where Dr. King and his followers politely asked to be seated at a 'whites-only' restaurant at the Monson Restaurant. Despite their peaceful requests, police and anti-protesters beat and violently objected to King and his followers. This incident led to other peaceful protests at 'white-only' establishments that led to similar outcomes. What we teach our children here is that King and his movement believed that basic human rights and equality for all was so important to them that they had more respect for others and embodied the spirit of the American way of life before the majority of white society did, and they realized the violence begets violence (a viscous, never-ending cycle) and it was Reverend Dr. King and those that believed in his message that helped to catalyze America to start the process of healing and balance (a process we are still going through today). Put another way (for our smaller kids): use your words - you don't have to hit or physically hurt others to get what you want.  
Memphis, Tennessee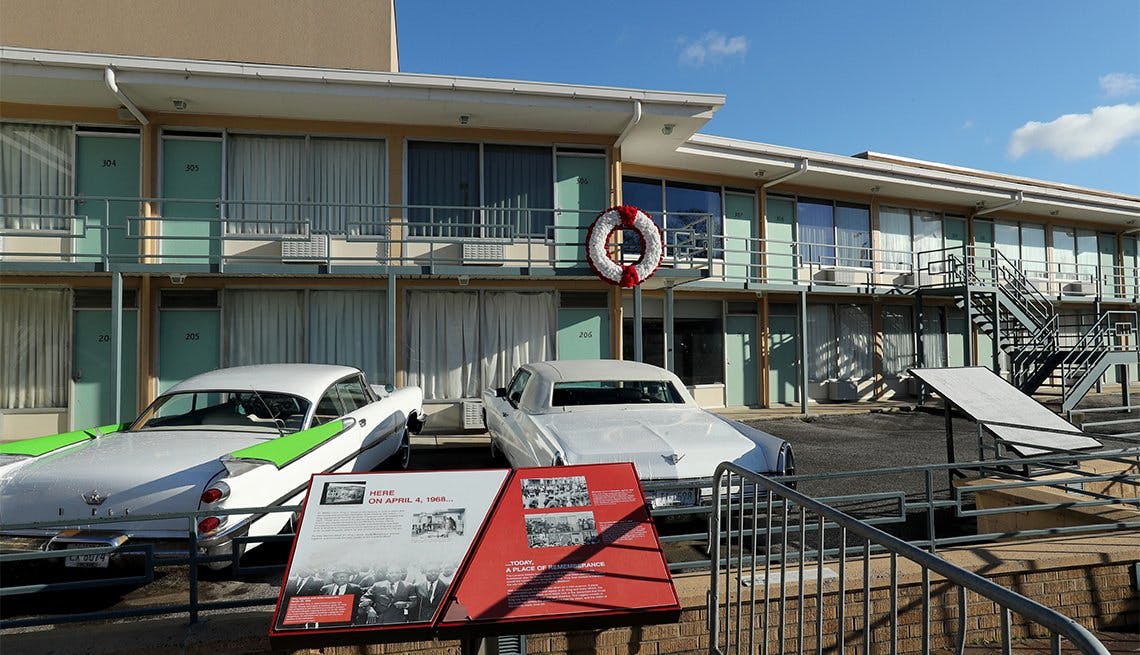 Here is where Dr. King was assassinated. Enough said. This the Lorraine Motel is where Dr. King was shot as he leaned out of the balcony. There are a lot of horrible details about the graphic images that are recorded in the annals of history, but we've omitted them out of respect (and ignorance), and of course for our innocent little ones that don't need to know all the details at their young age (they can explore it as they get older and can better understand the crimes of man). However, just being here, imagining Dr. King and his followers discussing their next peaceful protest, and then hearing the sound of a gun and all the horrible scenes that were sure to follow leaves a very powerful emotion behind. If your imagination is vivid enough it's almost as though an echo of the past is forever imprinted on the walls, rails, and parkinglot of the Lorraine Hotel with so much energy you can taste a bit of the paste (and hopefully learn from it).
Dr. King's Legacy is Profound
While we've listed a handful of RV and travel trailer destinations in the above circuitous trip, this history isn't your typical often sought-after playful camping trips we are used to posting, but rather a grim journey into our past, that sadly too closely models our present, with hopes that it brings a better future.
Tags
Family
Planning
Activities
Travel
Signup for Our Newsletter
AND
Trailers For Sale Near You
Trailers For Sale Near You