RV Snag Presents: US Political Word Search in Honor of Biden's Inauguration
Written By: Jerome Tyson
Last Updated: 2021-01-18
RV Snag Presents: US Political Word Search in Honor of Biden's Inauguration
Are you planning on traveling soon? Or otherwise have a long journey ahead of you? Well heck! Print this word search out to help celebrate the inauguration of President-elect Joe Biden and Kamala Harris for 2021.
We understand that not everyone is excited for this transition of leadership, but such is the United States government that we hold so dear. 2025 will bring a potential changing of the guards, but all the while we should hold true to our ideals and values that make our Nation so great. To help celebrate this time of democracy we've put together this word search (and crossword puzzle) to help remind us what it means to be an American, to be free, to have free speech, and the right to bear arms, and the civility to respect our brothers and sisters, despite our differences, in a promise to each other that no matter what drives us apart, America brings us together.
And... as always, for your enjoyment, and most importantly FREE of charge :-).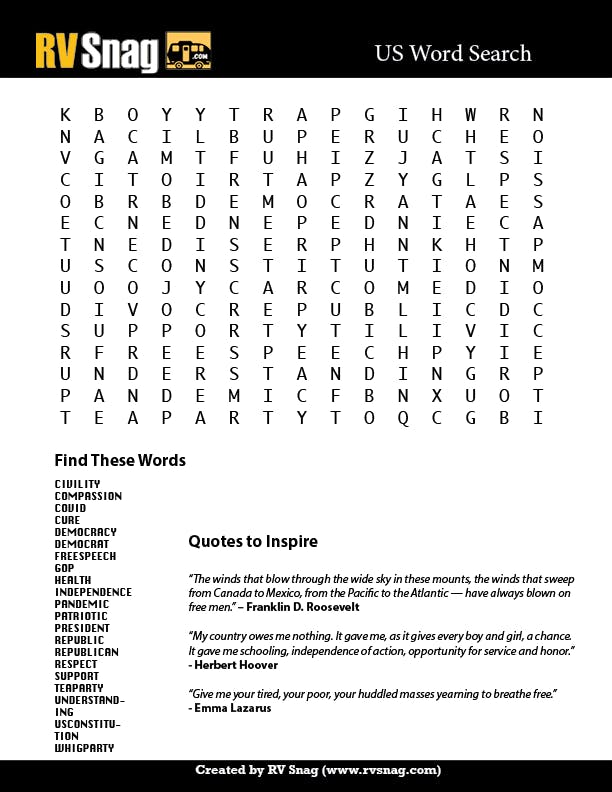 Download PDF
DOWNLOAD PDF of our US Political Word Search.
Tags
Family
Kids
Games
Road Trip
Signup for Our Newsletter
AND
Trailers For Sale Near You
Trailers For Sale Near You