RV'ing with Your Dog
Written By: Katy C., CVT
Last Updated: 2021-02-03
RV'ing with Your Pet is a Great Experience
Taking your pet RVing is a must, especially if your pet requires human attention like a dog (the fish can stay home). After all, they are a part of the family. But, before you take your dog on an extended RV camping trip in your travel trailer there are few things to consider before, during, and after your trip.
First, let's say a few words of how we are qualified to write this article:
We own pets ourselves. Some we leave at home, others we kennel, and a lucky few get to go on our trips with us.
I have worked in veterinarian hospitals for over 15 years.
Vaccinations
If you love your dog, take care of their health. To that end, have your dog current on vaccines. Keep in mind, young dogs should be at least 16 weeks of age and they should have their puppy core vaccines completed (DHPP, Rabies). If you are planning to go on hikes it is strongly recommended to have Leptospirosis (Lepto) vaccinations completed as Lepto can be spread via wildlife urine. Take your vaccine records with you as it is proof that your pet has their vaccinations (especially Rabies) in case a park ranger asks for the information. This is also important because if your dog, heaven forbid, gets into a fight with another dog or person - well, the cops may need this information as well.
Stop the Bloodsuckers & Parasites
Applying their flea, tick, and heartworm preventatives BEFORE you head out on your next camping trip is a good idea. Consider products such as: Advantix; Frontline; Interceptor (prescription only, see your vet); Heartguard (prescription only, see your vet). Make sure you've done your yearly heartworm test to make sure it is safe to apply the heartworm medicine in case you don't already apply monthly. During the warmer months, fleas, ticks, and mosquitoes are in abundance and this will keep them safe and comfortable.
Bring a Proper Length Leash
Bring an extended leash and a regular leash with you - different environmental situations require different lengths. The extended leashes work well to keep your dog tied up to your RV while you're at the campground, but the regular leash works better on your walks. Which reminds me, while on your walks keep them on a leash! You never know what distractions they may face and the last thing you want is to be looking for your runaway pet in the middle of the wilderness or running around a tourist city. I know how tempting it is to let your dog off leash, especially when you've spent so much time training them and they've been so successful in the past, but it only takes one incident to turn your otherwise great vacation into a pet nightmare.
Check our these Leashes: Expandable & Fixed-Length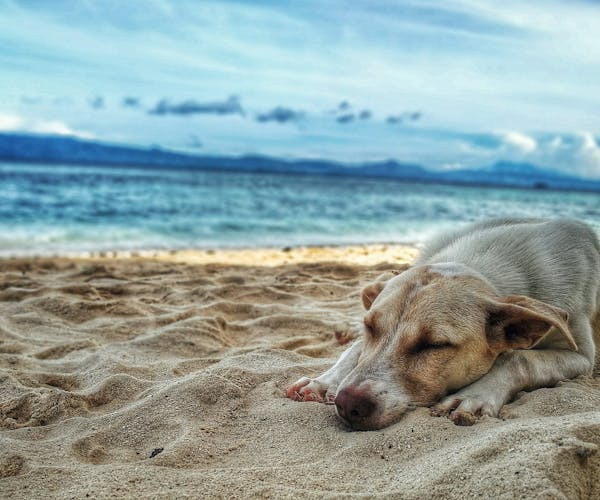 Will Your Dog Be Around Water?
Having a dog life vest can be a lifesaver, especially when you are uncertain how your dog will behave around large bodies of water. Plus, once your dog begins to understand what protection the vest provides, you'll be surprised how willing your pup is to jump into the water, bringing smiles to everyone's faces. It's easy to think that if your dog is in the water, they are obviously clean! Yes, this is true, but as soon as they come back onto land they will immediately be dirty. The trick is to dry them off as quickly as you can. To this end, bring extra towels to dry them off after playing on the beach. If you are lucky enough to have an external shower on your RV unit, wash off their dirt before they go into the camper so they can quickly rejoin the family.
Dealing with Anxious Dogs
If your pet has anxiety being away from home, talk to your vet about calming medications that can help them adjust to the change. There are a number of options your vet can discuss with you, based on your dogs health. It's so much easier to get a prescription from your dogs regular vet than it is trying to find a vet on the road - keep a small travel supply on hand to avoid messy situations, and a very stressed out animal.
What should I Feed My Dog on Our Trips?
Bland food. As bland as you can make it. Human food is not a great option for our little pups for so many reasons. I won't lie and said we don't give our dog a bit of meat or some human snacks every once in awhile - we do - but, you need to understand that it's very harsh on their digestive track. If your dog is not used to traveling, mixing human food in with their diet is a recipe for disaster.
Prescription Meds
If your pet has arthritis don't forget their anti-inflammatory medications and supplements to help them keep up with you and your walks, Just be careful and don't overwork them.  
Creature Comforts for Your Little "Creature" (Best Buddy)
Don't forget their beds and their favorite stuffies, kongs, balls, crates are great if your pets are used to them, so they can have their calm, safe area to be in. Being in an unfamiliar land, can feel a bit like home if you remember to bring the creature comforts.
WARNING: Never Leave Your Dog in a Hot Car or Travel Trailer
The biggest safety tip is to NEVER leave your dog in a hot car or camper. They can become death traps within a few minutes as hyperthermia is real. If your pet gets too hot pour cool water on them and drive to the nearest vet hospital immediately. Trust me, it's not enough to just "cool your dog off" in the shade (it will help), but the risk of death for a dog in hyperthermia is too real that it's best left to professionals.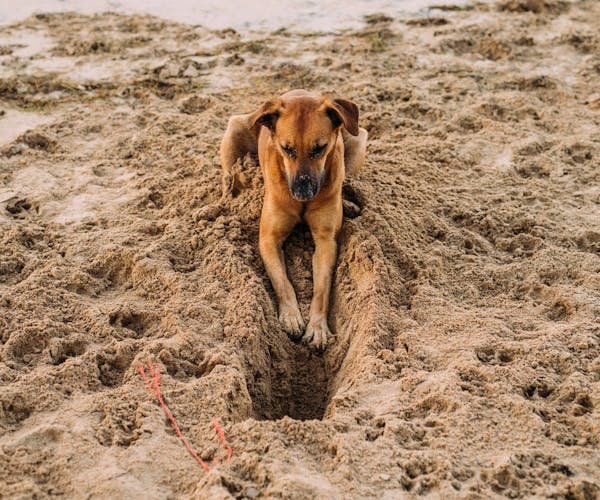 Make Your Trip Memorable for Everyone
Taking your dogs on the family trip can be amazing and a ton of fun for the entire family.  Being prepared to take them can help avoid any unwanted stressors, so you have time to make the memories you want.
Have you taken your dog on a trip recently and want to share your experience? Email us at social@rvsnag.com with your photos and your story and we'd love to add it to the site.
Tags
Safety First
Travel
Family
How-to
Signup for Our Newsletter
AND
Trailers For Sale Near You
Trailers For Sale Near You